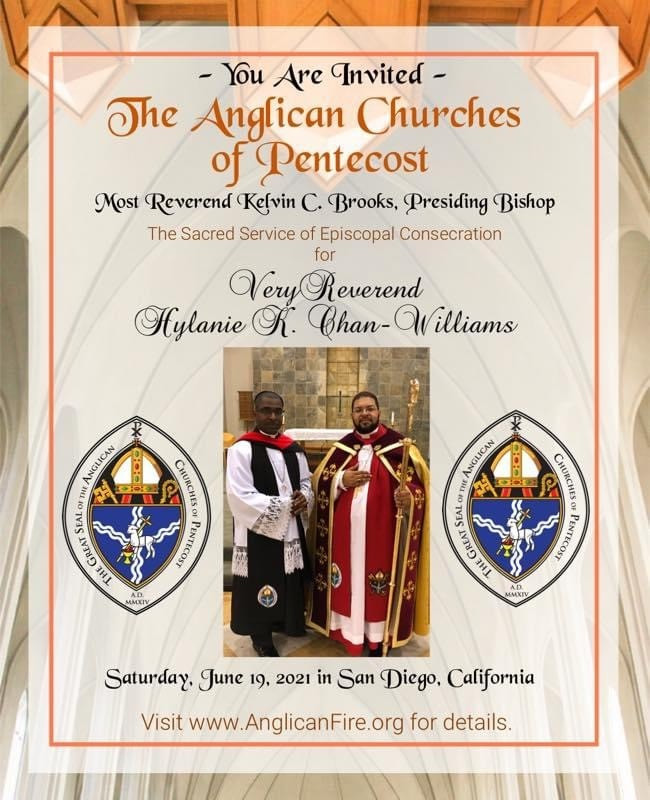 The Most Reverend Kelvin C. Brooks, Presiding Bishop and Primate of the Anglican Churches of Pentecost, and the entire ACP family across the globe is excited to witness the manifestation of the divine providence of God as we consecrate our FIRST bishop since our Primate was consecrated and enthroned in 2015; one year after our communion's founding.
The service will take place at the Murphy Canyon Chapel in San Diego, California. June 19, 2021, will remain a historic date in the life of our church and mark the beginning in a new chapter in the work of growing our communion and reaching the world with the Gospel of Jesus Christ!
Join us HERE on this page on Consecration Day as we stream the service LIVE (below) beginning at 10 AM Pacific
(1 PM Eastern).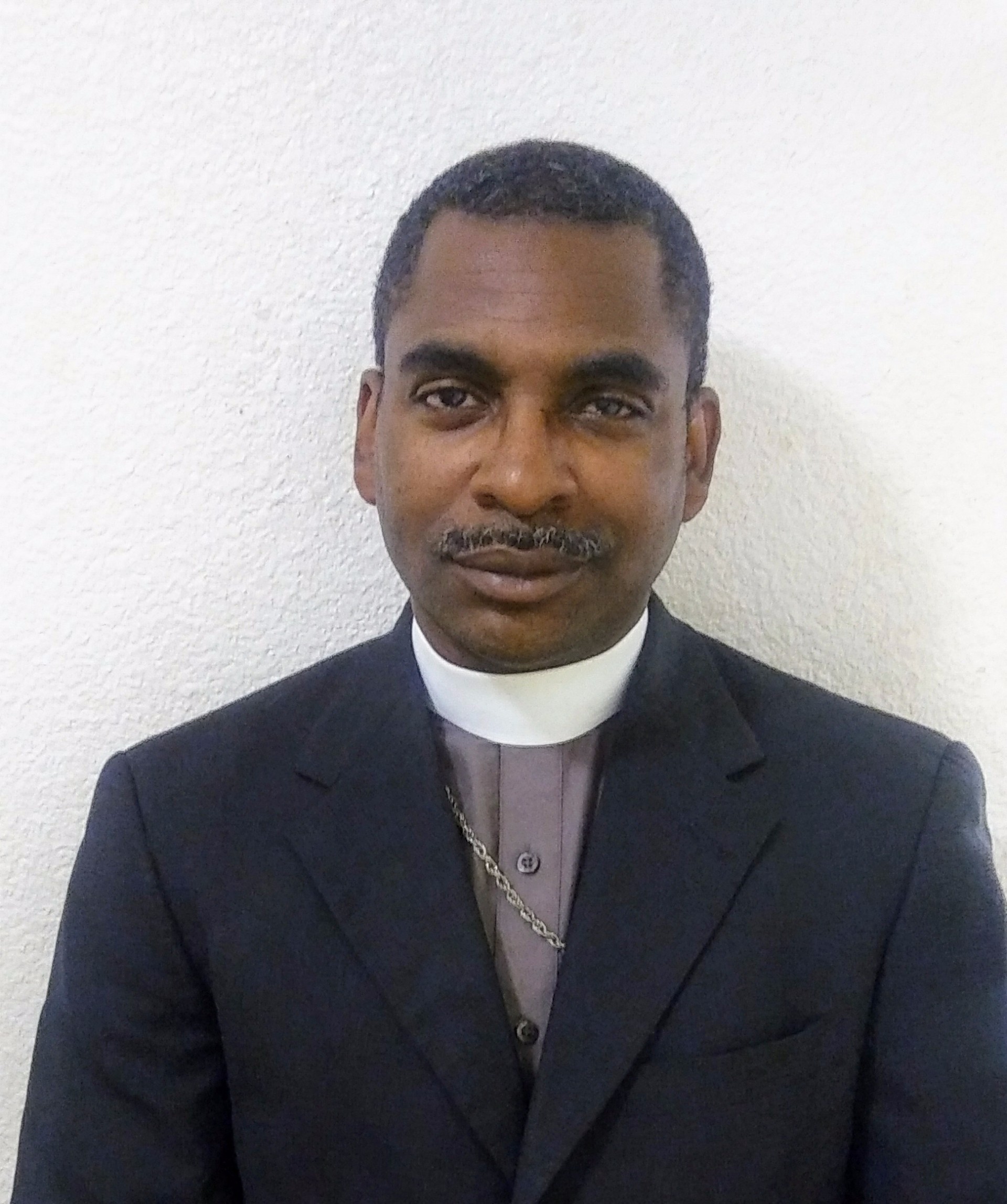 Bishop Hylanie K. (Kimokeo) Chan-Williams is a native of Brooklyn, New York. The product of a Hawaiian Chinese father and Caribbean American mother, Bishop Chan-Williams was reared around many religions and cultures, particularly the Buddhist, Catholic, Muslim and Protestant religious communities. However, Hylanie truly saw his religious upbringing as being formed in the front rows of Stuyvesant Heights Christian Church (Disciples of Christ). Hylanie sat alongside his great-grandmother Anna Mae Bembury who was a deaconess and usher for five decades as well as a national leader of Church Women United. Hylanie found a love for music in church and happily joined the choir. His love for singing and church music would carry him to the Boys Choir of Harlem where he would truly be inspired to travel and learn about new cultures all the while sharing the gift of music. He went on to study voice at the famous LaGuardia High School of Music and Art and later the Hartt School of Music where he would study with such artist like the legendary Jackie McLean.
However, it was a through a struggle to understand his multicultural heritage and quest for meaning that brought him back to the church and a desire to have an impact on the lives of members of diverse communities. It is also the time that he met his help-meet, Sharon Louise Prophete and embarked upon a love affair that has lasted more than three decades. Sharon entered a relationship with Hylanie in 1990 but made him wait a while to be worthy to marry her until 1994.

After graduating from college, Hylanie worked as an outreach worker in Dorchester, MA and started working with gang-related youth. It was through this work that he met his mentors, the Reverend Doctor Ray Hammond and Reverend Doctor Gloria White-Hammond who taught him the importance of the church reaching the marginalized and disadvantaged wherever in the world they may be. Hearing the call to ministry, he entered seminary at Boston University School of Theology, and was ordained in the African Methodist Episcopal Church by Bishop Philip R. Cousin. In 1998, after receiving his Master of Divinity degree the year before, Hylanie was given an appointment to start a new work in Worcester, Massachusetts. It was in this city that Good Shepherd Ministries was first formed with the help of Sis. Deborah Duncan the first member of the Worcester Mission. The Chan-Williams family would later serve several churches in the United Methodist Church and would move to Florida to start a youth ministry program for Haitian immigrant and Haitian American youth. Financial downturn and a desire to minister to military families would allow Hylanie to embark on one of his most rewarding adventures: service as a member of the United States Navy Chaplain Corps. As a chaplain, Hylanie has served Sailors and Marines in aviation, surface warfare and submarine warfare, all while contributing and serving as a global force for good.

It was his interaction with different communities around the world that rekindled his call to apostolic ministry and in 2018, Hylanie and Sharon reformed Good Shepherd Ministries but this time focused on reaching out and providing resources to churches around the world. To date the ministry is in 8 countries, serving some 450 churches, 400 pastors, and some 4200 members. It was also at this time that Hylanie would see the vision of the Anglican Churches of Pentecost and ask to serve under the leadership of Presiding Bishop Kelvin C. Brooks. Bishop Brooks saw the leadership potential in Hylanie and because of his work in missions and education appointed Hylanie first to be an Overseer and Dean of Christian Education. Now, Hylanie, taking on the new name Kimokeo has been recognized for his work in overseas missions and has been so elected, designated and now consecrated as the Bishop (Ordinary) of International Missions for The Anglican Churches of Pentecost.
A consummate scholar, Hylanie has also earned a Doctor of Theology in Biblical Theology from Andersonville Seminary and has received a honorary Doctor of Divinity for his devotion to theology and social action. He is presently pursuing a Doctor of Ministry in Integrated Mental Health Chaplaincy at Vanderbilt University concentrating on moral injury among service members of color. His military accomplishments have been to earn the Fleet Marine Force Qualified officer pin, the Deep Submergence Insignia, A Navy and Marine Corps Commendations Medal and two Navy and Marine Corps Achievement Medals. He is a proud member of Iota Phi Theta Fraternity, Incorporated and the National Naval Officer Association.
Contribute to the global ministry work of ACP and to Bishop Chan-Williams' consecration expenses by being a financial blessing today! You can give through the Cash App and Zelle information below, or you can male your contribution to us,
made out to:
The Anglican Churches of Pentecost
P.O. Box 71, Edgewater Park, New Jersey 08010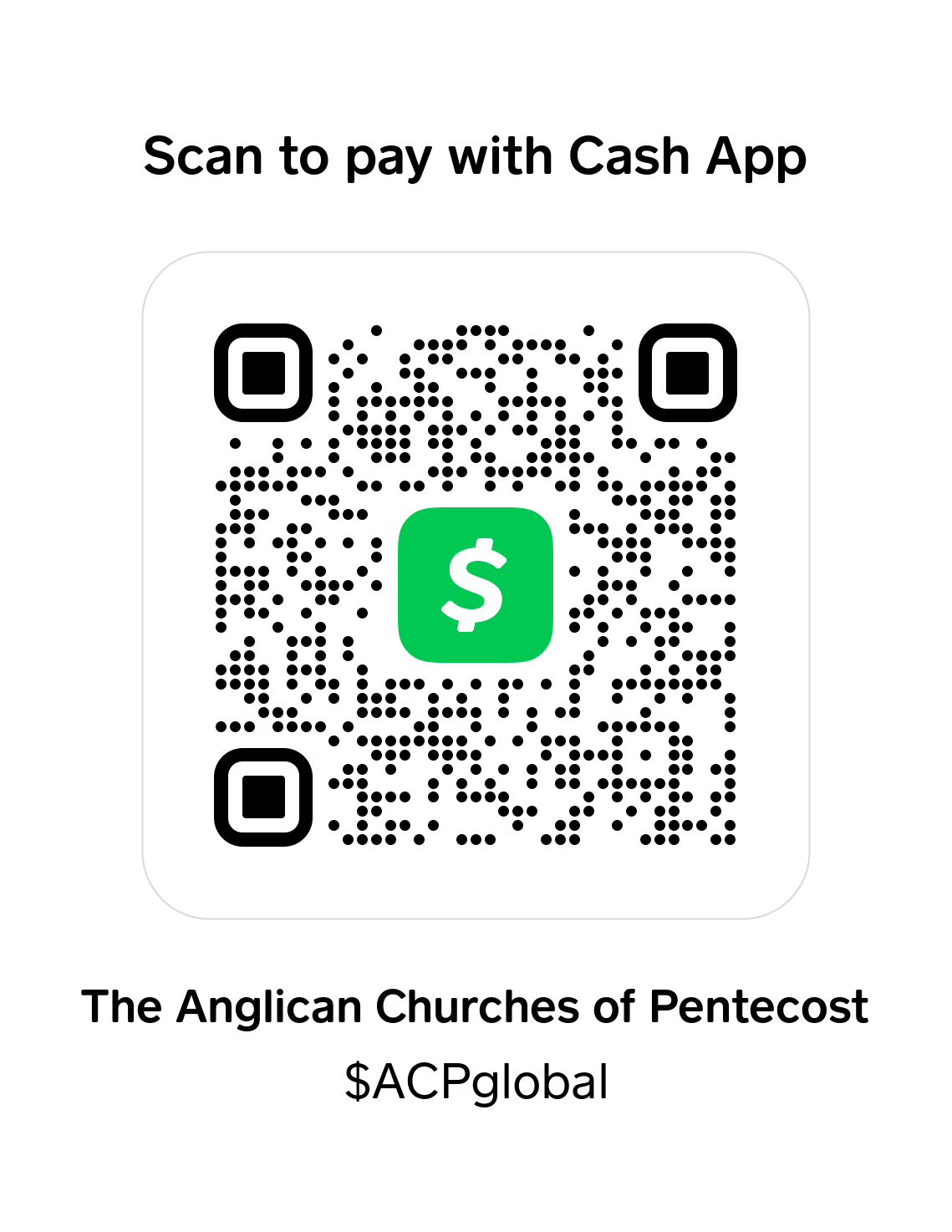 To Give via Zelle use:
Admin@AnglicanFire.org
Download a copy of the

Ordinal

(Service Program) HERE.